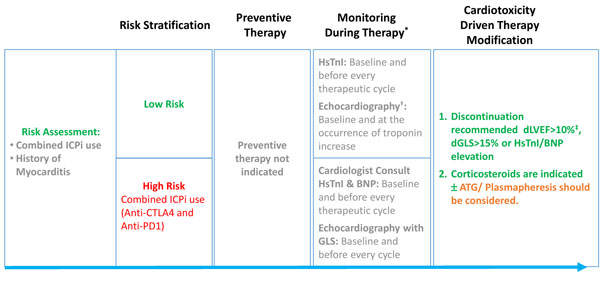 Figure 3.
Risk Stratification, Preventive Therapy, and Surveillance of Immune Checkpoint Inhibitor-treated Patients.
Blue arrow symbolizes cardio-oncological chronological point of intervention.
*Dependent on the availability of alternative therapies and following oncologist consultation; †LVEF should be assessed using 2D Simpson's LVEF or preferably 3D-based LVEF; ‡dLVEF>10% to LVEF<50%.
ATG, antithymocyte globulin; dLVEF, difference in left ventricular ejection fraction; dGLS, difference in global longitudinal strain; EF, ejection fraction; GLS, global longitudinal strain; HsTnI, high-sensitivity troponin I; ICPi, immune checkpoint inhibitors; LVEF, left ventricular ejection fraction.